Separated by oceans and different languages, photographers are linked by the camera. We are drawn to images of an ephemeral life that pause for a mega-second to imprint on film.
We are generally a lonely bunch - waiting for the glow of evening light, looking for a curious slant of a doorstop, or finding a street of strangers. We look for other photographers in the lonely halls of Flickr, Instagram, 500 px, photo forums, and our photoblogs.
Although, we may use our phones from time to time to take photographs, we are more often dedicated to using our film and digital cameras.
Please come and join me at the PHOTOGRAPHERS CAFÉ.
I'd like to get to know you. I want to learn from you.
Write to me in your first language. Use the Google translate box on each page. I know! Google doesn't always do a very good job. But, Google Translate is free. Try it.
My first language is English. I can also speak and write at an intermediate level Japanese. Perhaps you can write a little English. Try it out. It does not need to be perfect. Just go for it! Let's do the best we can.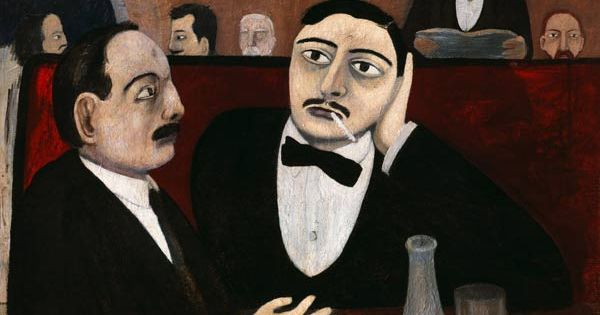 Ernest Hemingway, the 20th century American author was one of those artists who wrote his first books in a café in Paris. A Moveable Feast is an authentic depiction of Hemingway's early years of writing in cafés while living in Paris. He became part of the Café and Salon culture. You can read A Moveable Feast on Kindle or get a hard copy at Amazon.com (USA), Amazon.jp (Japan), or Amazon.cn (People's Republic of China).
WhAt is the Photographers Café?
After many years of showing my photos on social media and occasionally exhibiting my photos, I have found a more rewarding way to share my photography -- The Photographers Café.
A café is a gathering of artists where we show and discuss art. It is an 'incubator' for new ideas. The Photographers Café is where we photographers come together, become friends, encourage each other. And learn. The Café is a place where we feel valued.
Gathering artists to share ideas and innovate is an ancient Chinese concept. Chinese scholars were Renaissance men 2000 years before the word was invented. Musicians, writers, and thinkers, the scholars monopolized the art of painting and calligraphy. They gathered over tea and shared techniques, new tools, and ideas.
"Gazing upon the clouds of autumn, my spirit takes wings and soars. Facing the breeze of spring, my thoughts flow. Even the treasures of priceless jade cannot match the pleasure of this." Wang Wei (415-443 CE). Introduction to Painting.
CAFÉS OF PARIS. The cafés in Paris where places where great artists and writers met in the 1920s and 30s. Over cups of café noisette, Ernest Hemingway sat in Le Select Café writing, smoking, and meeting other writers and artists. Hemingway escaped the claustrophobic confines of his small apartment and took up residence in Parisian cafés where he wrote The Sun Also Rises.
In the cafés and salons of Paris artists were able to break away from the stultifying art world in Europe.
SALONS OF PARIS. (Not the kind where you get your hair done!) At a weekly Paris salon in the home of Gertrude Stein, artists came to meet Henri Matisse, Pablo Picasso, Ernest Hemingway, and F. Scott Fitzgerald. It was an honor to be invited to the Stein's in the 1920s.
Dressed in dark corduroy and seated in her overstuffed chair, Stein deigned to look at the paintings of Henri Cartier-Bresson. She advised him to give up painting, "Go back and work for your industrialist father." Three years later, Cartier-Bresson, stopped painting and took up photography.
F/64 GROUP OF OAKLAND, CALIFORNIA. In the 1930s the f/64 group of photographers of California met in a friend's old barn in Oakland. The Oakland Bay Bridge wasn't built until 1933, so Ansel Adams, coming from San Francisco, had to get there by ferry boat. The photographers showed up with photos in hand.
The f/64 photographers, especially the men, were a hard drinking, hard womanizing bunch. They met, they philosophized, and they partied. Ansel Adams arranged to have their work exhibited in San Francisco on November 15, 1932, at the de Young Museum.
THE ART JUNKET OF BERKELEY, CALIFORNIA. Over an espresso and a piece of hot apple pie, my daughter, Erin, and I met in a café on Solano Avenue in North Berkeley. We discussed the idea of reviving the salon concept for artists; a salon for artists who are beset with 21st century demands, yet need to make art. Supported by my second daughter, Katie, the three of us recruited a few friends to come to our first salon in March 2015. The Art Junket - East met for the first time in New York in February 2019.
THE ART JUNKET is made up of a group of artists who make a living wage in other professions, but we need to express ourselves through art. We named our café, The Art Junket. To learn more about The Art Junket in Berkeley, California and New York, go to my Wordpress Blog, The Art Junket.
THE PHOTOGRAPHERS CAFÉ. Join me HERE in the Café. We will talk about photography. Show our photos. Meet new people.